The Cackling Hen had been flying high for a while - getting a record-breaking four comments and double digit page views. Clearly just one hit post away from being covered on TMZ, The Cackling Hen had to get off the typewriter and back on the ice for live performances of Hens on Ice. Once again, performing for chicks and their parental roosters got in the way of my internet stardom.
The Hens survived two busy weeks of shows, rehearsals, visits from the Hens on Ice cocks of the walk, and presentations for understudy roles of various animals and poultry. I questioned if I could pull off the roles of Rubber Duckie or lead asparagus, but after nights of practice and watching National Geographic documentaries, I was ready. Hopefully now I'll have less mornings waking up in an anxious sweat, muttering Rubber Duckie's lines to myself.
She's our Rubber Duckie
After a week in Miami and cab after cab to South Beach, we flew to Alabama with less money and dignity, but more YOLO and LMFAO-lyric shirts. All of us arrived to the Fort Lauderdale airport sleepily at 7:00 a.m., regardless of if we went out to South Beach for one last hurrah the night before. We moved extra slowly through the terminal to check in, but it wasn't just the South Beach in our legs - it was also carpet under our feet. It must be because carpet is easy to clean and overweight luggage moves across it with ease. Wait...no. That's any type of floor
but
carpet. However, we missed the carpet once we got through security and the floor was 16th century cobblestone.
We had one layover on our direct route from Florida to Alabama, changing planes in Baltimore, Maryland. Our sassy flight attendant put on a free show for us with some of the following quotes along the way:
"Once you find your seat, you have 2.5 seconds to get out of the aisle before we come at you with cattle prods."
"Please shut off any Blackberries, pink berries, blueberries, strawberries or any other type of berry before take off."
"If I see you with an electronic on after the doors have closed, I will make an example of you and embarrass you."
He also grabbed my arm and growled at me when I attempted to toss my Coke can into his trash bag, causing me to scream at him. Good luck to anyone trying to sleep on his flights.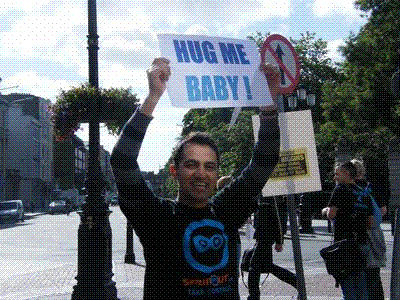 Thankfully there were no stray babies
Now that my fellow hens and I are nestled in the bustle of Huntsville, Alabama, I went to explore the park across the street. I walked peacefully through groups of distant relatives - pigeons, ducks, geese and everything crossbred in between. Suddenly, I noticed a group of 30 young women, dressed in black with hair of all colors of the rainbow, clamoring toward me. They had glitter painted signs, booming voices and cameras. Their signs read, "free hugs!" and their voices hollered the same. After the fifth hug and second picture, I demanded this gaggle of huggers identify themselves. They said they were with the Paul Mitchell Salon. I need to talk to them about their marketing strategy because they had no business cards - just hugs and signs about hugs. If I hadn't asked I would have assumed they were just some run of the mill cult.
Huntsville may not be Miami, and I mentally prepared for the worst - incomprehensible accents, roach-infested buildings and hate crimes. Thankfully there's been none of this - just that hugging cult. But on a day off like today - sunny and the perfect temperature in a radiant park filled with ducks and fish - it's hard not to see this moment as just a small slice of unexpected heaven.
My photo shoot with Huntsville
Milling with the locals