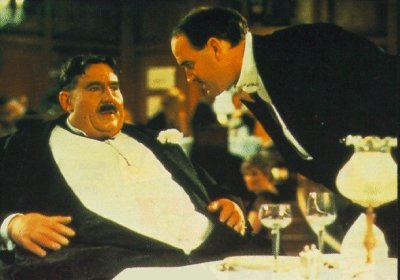 The commercials for Olive Garden's infamous "Never Ending Pasta Bowl" are back. Yet where are the news stories revealing that this is a bold-faced lie? Cackles aside, I'm hear to bear the truth: it ends.
As a naive college student, my friends and I used to frequent Olive Garden to take full advantage of this "never ending" deal. We saved up for weeks to try to get a few meals out of the $8.95 deal, and our digestive systems could then only process pasta after a few too many weeks on Ramen noodles.
The plan was simple:
Fast for 24 hours
Eat at least three large pasta bowls to nourish us for the next 48 hours
Order a fourth bowl, only to eat one noodle and get the rest to-go
Eat the leftover bowl three days later
Repeat two-weeks later from our next two-figure work study paycheck
Our slender group of 10 was ready to blindside Olive Garden with value consumption. Our server introduced herself as "You Can't Take Any of the 'Never Ending' Pasta To-Go." We responded with ordering 10 water-with-lemons.
The first bowls of pasta were bounteous, with the unfamiliar aromas of meat and cheese. Bring on round two!
The second "bowls" came served in soup cups. The thirds were three noodles in coffee cups.
Although the value wasn't quite as great as we hoped, we still waddled out more starched than when we came in. And we vowed to return with big purses and Tupperware - even the girls.
We returned to Olive Garden months later, after weeks of our work study checks being lost in campus mail. Olive Garden was on its way to become out new hang out. Not only was the Never Ending Pasta Bowl a decent value, it also took the guess work out of ordering. No more reading the whole menu and no more risky eggplant parmesan orders. But my laughter faded before the bread sticks hit the table.
"I'll have the Never Ending Pasta Bowl." I announced.
"That ended months ago." Our server said before I got out the 'I'll have.'
As Olive Garden begins their new promotion for this pasta bowl of lies, learn from my experience and empty purse: it ends. Olive Garden should reassess its marketing plan of outrageous claims and follow a similar campaign to the McRib.